Supreme Divi Typing
In the mist of Covid-19 (Corona Virus), we at JDS WebDesign are hoping everyone is safe, washing your hands frequently, sneezing and coughing in your elbow, and practicing social distancing.  Over the next several weeks, we are planning on blogging about how to make your website more business friendly.  We will have some tutorials on our favorite plugins and features, which will make your site more efficient.
It is plugin Monday, and today let's discuss Divi Supreme Module Plugin. This is an awesome plugin, which was discuss in a previous blog post.   This is a really great plugin, which offers many features.   It has over 10,000 installs, with a 4.7 out 5.0 rating.  Many users have some raving reviews.  And it is a free plugin.
Supreme Divi Module
The plugin offers 16 custom modules.  These modules include Gradient Text, Flip Box, Text Divider, Images, Buttons, Facebook Feeds, Facebook Comments, Twitter Timelines, Contact 7 Form, Caldera Forms, Embedded Google Maps, Text Badges, Menu, Price List, Business Hours, and Typing.  Let's discuss the typing module. Remember this is a module plugin.  What does that mean?  It will create new modules for Divi only. Once the plugin is installed, you will notice all the 16 custom modules on any new page or post. Simple, really simple.
Typing Feature
This is a really cool features.  A few years ago, there were a couple of paid plugins which offer this feature.  Most of the feature was used on hero section or image.  With this plugin, the feature can be used anywhere.  You can add it to a text section.  Over an image. Under an image.  It really is up to your creativity.
The plugin also allows you to, not only display content, determine typing speed, typing back speed, back delay, and loop.  Loop is the feature of allowing the typing to start over or once the message has been illustrated to stop.  Check below to see the typing feature "live".
Module Plugin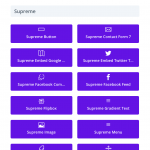 This is not a new design or feature.  Module plugin, means that it adds more features (or modules) to the Divi Framework.  You will still have your 20+ modules, but this plugin will add another 16 custom features.  The possibilities are only limited by your creativity.  And as you can see from the image on the left, you will only need to select the module and instantly improve a section or feature to your website.  How great is that.  Check out the plugin and let me know your thoughts.     Image courtesy of Milkovi.
JDS WebDesign is a Web Design and Brand Marketing Agency located in Marietta, Georgia.  We create AWESOME on line presence for Start-ups and Influential People/Organizations.  To learn more about us or how we can help you and your organization, you can contact us or schedule a meeting.