Quick and Easy Fix to SLOW Web Site
In the mist of Covid-19 (Corona Virus), we at JDS WebDesign are hoping everyone is safe, washing your hands frequently, sneezing and coughing in your elbow, and practicing social distancing.  Over the next several weeks, we are planning on blogging about how to make your website more business friendly.  We will have some tutorials on our favorite plugins and features, which will make your site more efficient.
We are in the giving mode, even after the holidays.  How to fix a slow website?  It is really simple and easy.  You can speed up your website using three FREE plugins.  WP Smush-it, W3 Total Cache, and WP Optimize.
We will use our branding web site to demonstrate how the process works.  We will be re-design our branding site in a couple of months, so if you are looking at this blog post in January 2020, then the site will look a little different in about April or May 2020.
JDS WebDesign – Podcast (Prior to adding three plugins)
As your can tell our score on Pingdom was 75 prior to adding the three plugins.  75 is not a bad score, but we wanted to show you how you could improve your score in about 15 minutes.
WP Smush It
WP Smush It is a plugin design to optimize all your images in your media library.  Why would you want to optimize your images.  Images can slow down your website and WP Smush It will optimize all your existing images and any new added images.
This plugin is extremely easy to use, and you can optimize your images on the fly as you upload them. As you can tell we was able to save 529.9 kb by unloading this plugin.  That is a lot of space and time.
W3 Total Cache
So what is page cache?  Page cache is the way your computer loads up each page, so that it is not being dynamically loaded upon each page load. By having this enabled, you will significantly decrease your load time and server resources while improving performance. In layman terms, when your type your home page in your browser…instead of your browser having to go to your server to retrieve all the features of your page.  The cache will remember it and display your page.
Cache is tied to site speed.  When you have a site with out cache, a user will request a page by typing in your domain in the browser.  Your computer will pull up the page from your hosting server and, they see a WordPress page. PHP recognizes the call, goes to the MySQL Database which finds the page your user is looking for, then outputs it. This takes server resources. Having the page caching turned on, allows you to skip all that server load and show a cached copy.
You can get really deep with the setting on this plugin, I just used the default ones.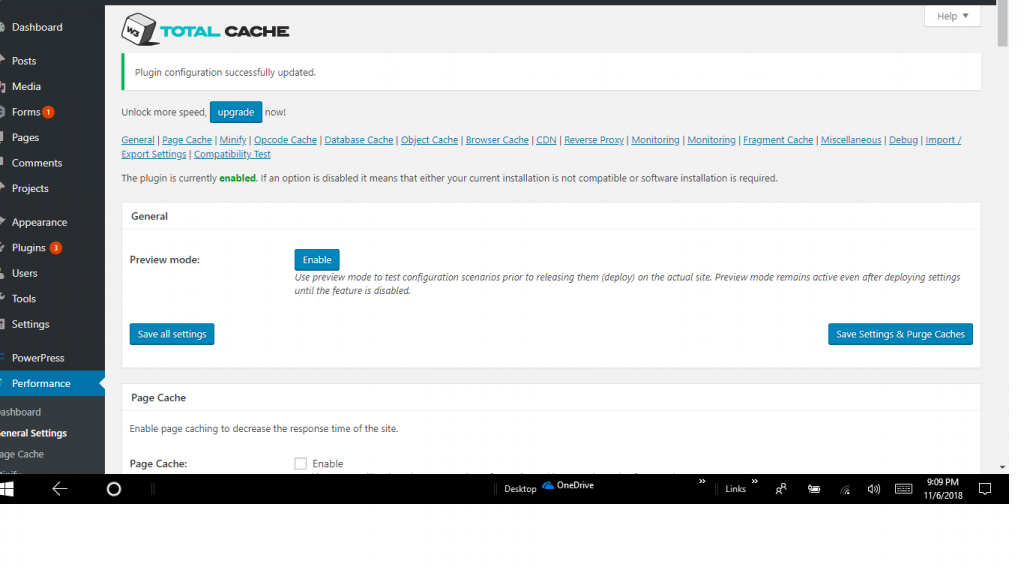 WP Optimize
This plugin is made to optimizing your database cleans up unwanted data which reduces database size and improves performance.  Most WordPress website have a lot of useless data in their database such as post revision, page revision, spam comments, trash, orphaned meta data, etc..
This data increases your WordPress database size, which means your WordPress backups will take more disk space and time to restore.  Cleaning up this unwanted data significantly reduces your WordPress database size, which means faster backups, easier restore, and improved database performance. So this plugin will optimize your WordPress database and remove clutter.
JDS WebDesign – Podcast (After adding three plugins)
After loading three plugins and taking up about 15 minutes of my time, my pingdom score is 89.  Not bad!!!
Image Courtesy of Ryan Johnston.
JDS WebDesign is a Web Design and Brand Marketing Agency located in Marietta, Georgia.  We create AWESOME on line presence for Start-ups and Influential People/Organizations.  To learn more about us or how we can help you and your organization, you can contact us or schedule a meeting.
Subscribe to our Email List