Monarch
Monarch, a social media sharing and display plugin is our plugin of the week.  Monarch is apart of the Elegant Themes Family. This is a premium plugin, which cost from $89/annual or $249/lifetime.  The cost does include all the themes and plugins from Elegant Themes.
Social Media Sharing
One of the best ways to create traffic to your web site, is by leveraging your social media accounts.  A very diverse plugin, Monarch has many great qualities.  Including allowing you to add 20 social media networks to share your content.  Imagine a visitor can read a page or post, and with one click share your content on their social media page (with their followers).
5 Different Areas to display Monarch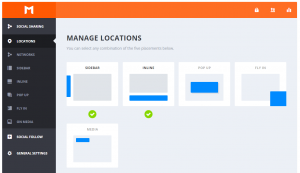 Another great feature is Monarch can be displayed on 5 different areas, including Floating Sidebar, Above and/or Below Content, On Images, Automatic Pop Ups, and Automatic Fly Ins.
Floating sidebar is the most popular.  Having several popular social media icons on the left or right side of your web site, and allowing visitors to share your content is really simple.
Above and below content has some unique advantages with a blogger site.  The visitor is given an opportunity to make your post go viral, by sharing your content information with their followers.
On images is probably the least effective.  The icon can sometimes get lost in the image.  However for portfolio type of sites, this is a great way to have images and content shared.
Automatic pop up is a dynamic feature and gaining some traction.  Social media icon will pop up, using triggers (which will be discuss later).
Automatic fly in is another way to engage with your visitors.
Triggers for Monarch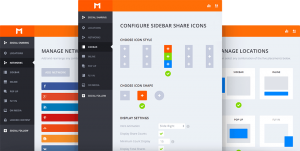 Triggers are how you can control how the social sharing plugin will be displayed.  There are 6 different triggers…Time Delay, Bottom of a post, After commenting, Upon Scroll, After Purchase, and After Inactivity.
Social Media Display
Monarch will display your social media network and number of social media counts.  It can display over 35 different social media networks.  These social media displays can be on a page or post (using shortcodes) or in widget areas.
Image courtesy of Leio McLaren.
JDS WebDesign is a Web Design and Brand Marketing Agency located in Marietta, Georgia.  We create AWESOME on line presence for Start-ups and Influential People/Organizations.  To learn more about us or how we can help you and your organization, you can contact us.