MemberPress
In the mist of Covid-19 (Corona Virus), we at JDS WebDesign are hoping everyone is safe, washing your hands frequently, sneezing and coughing in your elbow, and practicing social distancing.  Over the next several weeks, we are planning on blogging about how to make your website more business friendly.  We will have some tutorials on our favorite plugins and features, which will make your site more efficient.
There are countless WordPress Membership plugins, from S2Member (which use to be our favorite), Restrict Content Pro, Teachable, and MemberPress (our favorite).   Most of the good  membership plugins are premium, there a few adequate free ones…if your project is not too complex.
MemberPress is a premium plugin, so it cost from $129.00 – $369.00 annually.  And it is worth every penny and here are a few reasons why.  MemberPress offers the following…Easy Set Up, Powerful Access Rules, Community Forum (works with BBPress), Stable and Secure plugin, Pricing page, Works with all themes (no issue with Elegant Themes, Divi), Drip Campaign, Affiliate Program, Exceptional Reports, Payment Gateway, Subscription Management, and Outstanding Support.
While we will not go into full details about all of these features, we will touch some of the important ones.
Easy Set Up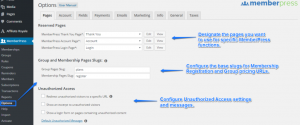 All you need to get off and running is three things.  Set up the plugin (install it with the WordPress Plugin add feature or FTP it to your server), add payment gateway (if you are not requiring payment, then you would set up a free level), products or member levels.  Should take about five minutes…
Powerful Access Rules
Using an access rules to restrict content, you are able to grant access to specific pages, post, categories, tags, files, etc.  This is a short code plugin, and provides a lot of tutorials to meet just about any need.
Drip Campaign
Drip campaign allows your website to display certain content after a specific time.  This is  a powerful way to keep your visitors (target audience) engaged with your website.  Many membership plugins do not have this feature.
Customizable
MemberPress is super easy to use and looks very good out of the box.  However it can be customize to fit with your theme look and feel.  There is a large number of action and filters.  The code is not encrypted and the support team is always available to assist with customization of the plugin.
Payment Gateway
MemberPress works with PayPal Standard, PayPal Express Checkout, Authorize.net, and Stripe.  The plugin does allow one time charges, trial period and recurring payment.
Support
MemberPress offers three types of support.  They have an extensive  Knowledge Base (which is full of information about MemberPress), Support Ticket (and generally you will have an answer within one business day) and future customers (the ability to ask question prior to purchase).  The plugin does offer 14 day trial and has a clearly outline refund policy.
Image courtesy of Cayley Nossifer.
JDS WebDesign is a Web Design and Brand Marketing Agency located in Marietta, Georgia.  We create AWESOME on line presence for Start-ups and Influential People/Organizations.  To learn more about us or how we can help you and your organization, you can
contact us
.