Moo
In the mist of Covid-19 (Corona Virus), we at JDS WebDesign are hoping everyone is safe, washing your hands frequently, sneezing and coughing in your elbow, and practicing social distancing.  Over the next several weeks, we are planning on blogging about how to make your website more business friendly.  We will have some tutorials on our favorite plugins and features, which will make your site more efficient.
What is a partnership?
In today blog post, I have decided to discuss one of my many partnerships. I have a partnership with several theme developers.  I have a partnership with several plugin developers.  I have a partnership with a local developer.  I have a partnership with a couple of hosting companies.  I have a partnership with several back up companies.
I have a new relationship with a printing company, Moo.  In the past, I used a local printing company.  It was always a crap shoot, sometimes my business cards came out looking GREAT…sometimes they looked like a 3rd grader design.  I had reached out to several designer and developer, inquiring about who handled their printing needs.  The list was endless and somewhat overwhelming.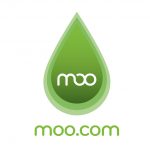 With my new venture, I needed to find a printing company.  I had seen Moo, many times.  I decided to give them a try.  The ordering process was simple and easy.  I was provided with many options with regards to shipping and delivery time.  The price point was outstanding.  I place my order.  It took about five (5) days for my new business cards to arrive.  I was super excited!  I had order fifty (50) business cards.  I opened the package, and my design was on only 10 of the cards.  The promo design was on the other 40 business cards.  The promo cards did not look bad, so I decided not to return them.
A few days, I received an email about my new business cards. It was a two (2) question survey.  I voiced my concern about the 40 promo.  I received an email of explanation.  It was totally my fault, and again I liked all the cards.  At the bottom of the email, was an apology and notification that fifty (50) business cards with my logo were being shipped out.  I received my business cards in about three business days.
I am a strong believer in GREAT customer service.
I can not tell you the number of times, that I have went above and beyond the call of duty.  This trait has help me to stay in business for the past nine (9) years.  I have a new partnership.  Moo is an awesome company.  Their product is AWESOME.  LOVE me some Moo…
If you need some print design, then I strongly recommend MOO!!!
If you need a custom design website or brand development, then I am taking new clients. You can reach me at info@jdswebdesign.biz or 678-718-5489.
Image courtesy of Farrel Nobel
JDS WebDesign is a Web Design and Brand Marketing Agency located in Marietta, Georgia.  We create AWESOME on line presence for Start-ups and Influential People/Organizations.  To learn more about us or how we can help you and your organization, you can contact us or schedule a meeting.