Getting the job done
In the mist of Covid-19 (Corona Virus), we at JDS WebDesign are hoping everyone is safe, washing your hands frequently, sneezing and coughing in your elbow, and practicing social distancing.  Over the next several weeks, we are planning on blogging about how to make your website more business friendly.  We will have some tutorials on our favorite plugins and features, which will make your site more efficient.
A couple years ago,I hurt my lower back,and running an agency the ability to get projects completed is always important.  Being limited in what I can and can not do? It was my sciatic nerve, and everyone has a cure.
You should have low back surgery.
Visit your local chiropractor.
Ask for some pain relief medicine?
Doing the following.  Visiting  my primary doctor.  She prescribe some strong pain relief pills, which are very addictive. Anyone who know me, knows that addiction is a huge fear of mine.  Needless to say, it only took a few pills before looking for other options came into focus.  My primary doctor recommended me to a back specialist.  The back specialist recommended lower back surgery.  My down time (recovery period) was estimated at six to eight weeks. That is a lot of time to be off, so I looked at my local chiropractor.  He has been jumping on my back and cracking bones for a couple of months.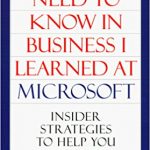 This down time has allow me to read one of my favorite books, "All I really need to know in business I learned at Microsoft"  Insider Strategies to help you succeed by Julie Bick.
One of my favorite sections is located in Chapter 2, a section called "Getting the Job Done".
There are eight (8) lessons located in the "Getting the job done" section.
Work Smart – Not Long
We have all heard the "Work Smart, not long".  In the book it mentions the following " unread memos, unending phone messages, overflowing to-do lists, a packed meeting schedule – you can get through anything if you organized and prioritize.  Work smart instead of long. Cut unnecessary meetings.  Do not be a perfectionist if it is not called for.  Put your best efforts into the things that really matter to your business."
"I do not know" is okay, especially coupled with "I'll find out"
In the book, you learn to "When a stumper comes up, those six little 'I don't know, I'll find out' are safer than bluffing.  No one expects you to know everything, and a little humility can go a long way.  'I don't know,  I'll find out' shows you're honest, you're not panicking in the face of a challenge, and you're responsive, if you follow up with an answer."
Humor can get you out of sticky times
"We've all had embarrassing snafus, made foot-in-mouth comments, and had nightmare presentations where all the equipment stopped working.  In most cases, a little self-deprecating humor can go a long way to ease the situation."
Real employees do eat lunch
"Most managers know some of their employees might stay day and night working in their offices. And while that may sound like ideal worker behavior, they know a little break makes a lot of sense.  And lots of important things happen outside of the office."
Creativity is not a one man job
"Don't go it alone.  When you're wrestling with a thorny issue or need a cool new idea, gt your colleagues in on the action.  You'll likely achieve greater results."
If you are going to drop the ball, arrange for someone to catch it
"Sign up only for what you can really do.  Whether it's signing up for a new project, an out-of-town business trip, or a follow-up call to a client – if you can not do it, then do not say you will.  And if you can not follow through on a commitment, then find help fast."
Their experience vs. your instinct
"Sometimes you need to go with your gut, even when you disagree with the 'so called experts'."
Work faux pas
"It is easy to make social and professional gaffes on the job."
Image courtesy of Dai KE.
JDS WebDesign is a Web Design and Brand Marketing Agency located in Marietta, Georgia.  We create AWESOME on line presence for Start-ups and Influential People/Organizations.  To learn more about us or how we can help you and your organization, you can contact us or schedule a meeting.